I don't know that any teenager joins a high school mountain bike team to "build character" but lining up for your first race ever in the pouring rain after being on the team for only a week's time is surely character building. If you survive the damn thing and come out on the other end with a smile on your face, like new team rider Hunter did during our third race, then I'd say you might just be in for a career as a character contractor. At the very least I'd say you're hooked on the whole mountain bike thing.
For race #3 our race crew was paired down to three riders. Jacob, entering his second race ever, new rider Hunter, his first, and our most veteran racer to date, Sergio, lining up for his third consecutive race.
I met up with Hunter at Richmond High where we busted Sergio out of the office, telling the principal Deleon "Sergio is a rider on a mountain bike team and we've got a race tomorrow in Monterey. We have to go pre-ride the course." With an expression that fell somewhere between consternation and concern, the principal paused before letting out a long slow "OhhhhKaaaay, so I guess we'll call his parents to make sure?" I could read between the lines and upturned eyebrows. Was this even real?
"I met up with his parents last night at their house." I said "They know. They've been to a race. They'll be there again."
Mom was called, thumbs were turned up, lights turned green. We loaded up and pointed the car southward on what has been our bi-weekly mountain bike racing pilgrimage to Monterey for the past month.
As soon as the tires started turning, the chatter and excitement turned up. Hunter was full of questions. Sergio was his usual coy self, smiling boyishly when asked about his pre-race mentality or what it felt like to come through the finish line at a race knowing you've left everything you had out on the course. We talked and talked and talked. The aniticipation was building like a kettle on the burner about to whistle.
Time flew and before we knew it we'd shed the city grime and were feasting our eyes on rolling green vistas and the entrance to Fort Ord. It was time to stretch the legs on the race course for a pre-ride. Hunter got his race plate and we took off, winding along the sandy flowing singletrack that defines Fort Ord.
After the pre-ride we ate, set up camp, told stories around the campfire and then knocked out for an early rise the next morning. Coach Morgan from Oakland Composite happened to pull into the neighboring campsite and joined us around the fire to share sage experience from years coaching a standout team.
Race Day
Saturday morning we awoke to dry-ish tents and broke camp in record time. The sky was full of clouds but glimmers of light filtered through as the sun rose giving promise for a rainless race day [cue a chuckle from the rain gods] . We made our way to the race venue and unloaded our meager team gear from the trusty "Prius truck" and set up--10x10 canopy tent, 6 ft folding table, white board, a milkcrate of tools and a floor pump.
"It's time to eat!" We headed over to our friends and generous pit hosts Berkeley High for something warm and delicious to fuel the races ahead. Following breakfast we took care of odds and ends, remaining prep, lots of hellos and headed over to cheer on the ladies as they started their race.
Race days work kind of like a roller coaster. You labor and work to get up to race day and then when you get there you throw your hands up, holler and let gravity do it's thing. It's one thing to the next, non stop stimulation and excitement for eight hours. Once the ladies are off and racing the next wave of racers (freshman and sophomore boys) are getting ready to warm up.
Before we know it it's 3, 2, 1, GO and Jacob and Sergio are on course powering up the first gravel hill leaving only a dust cloud in their wake. The rest of our team goes into support mode. We cheer, we look out for riders on course, we hand up water bottles and yell like hell when we see a Richmond Composite rider on course. Coach Doug headed out to the midway point of the course to help motivate Sergio up a tough gravel climb. Sergio responded by finishing the climb and then powering off to catch the next rider.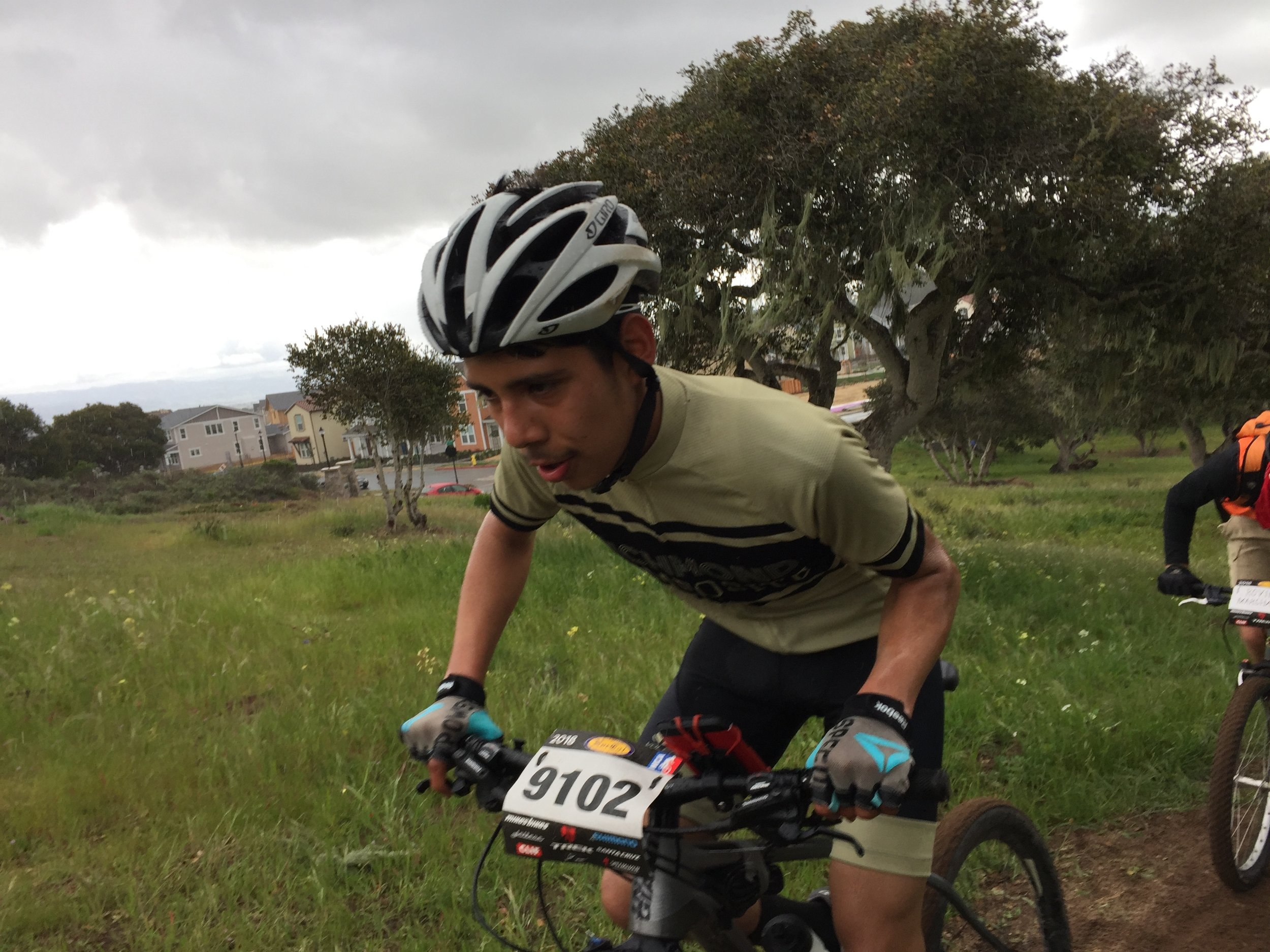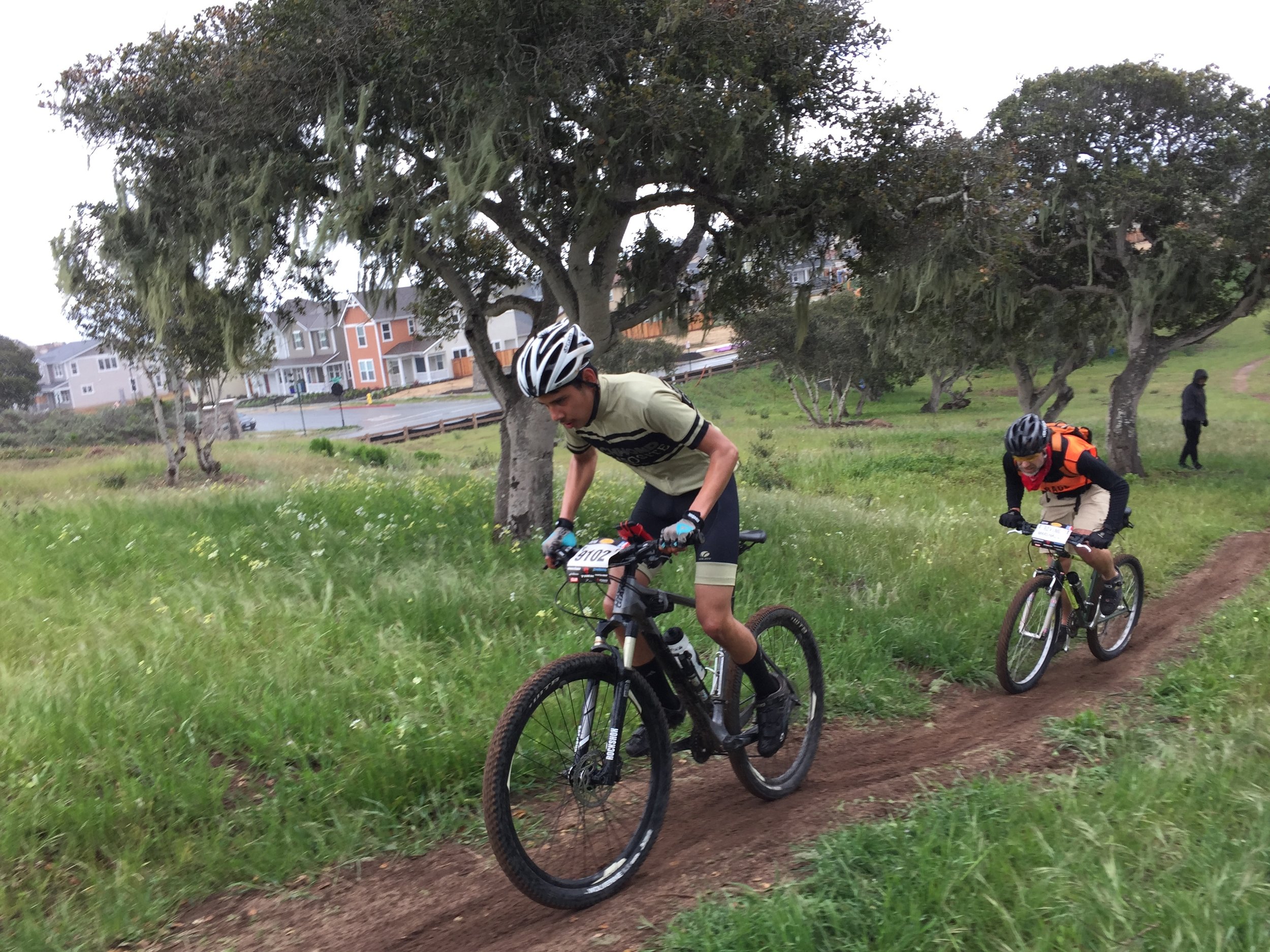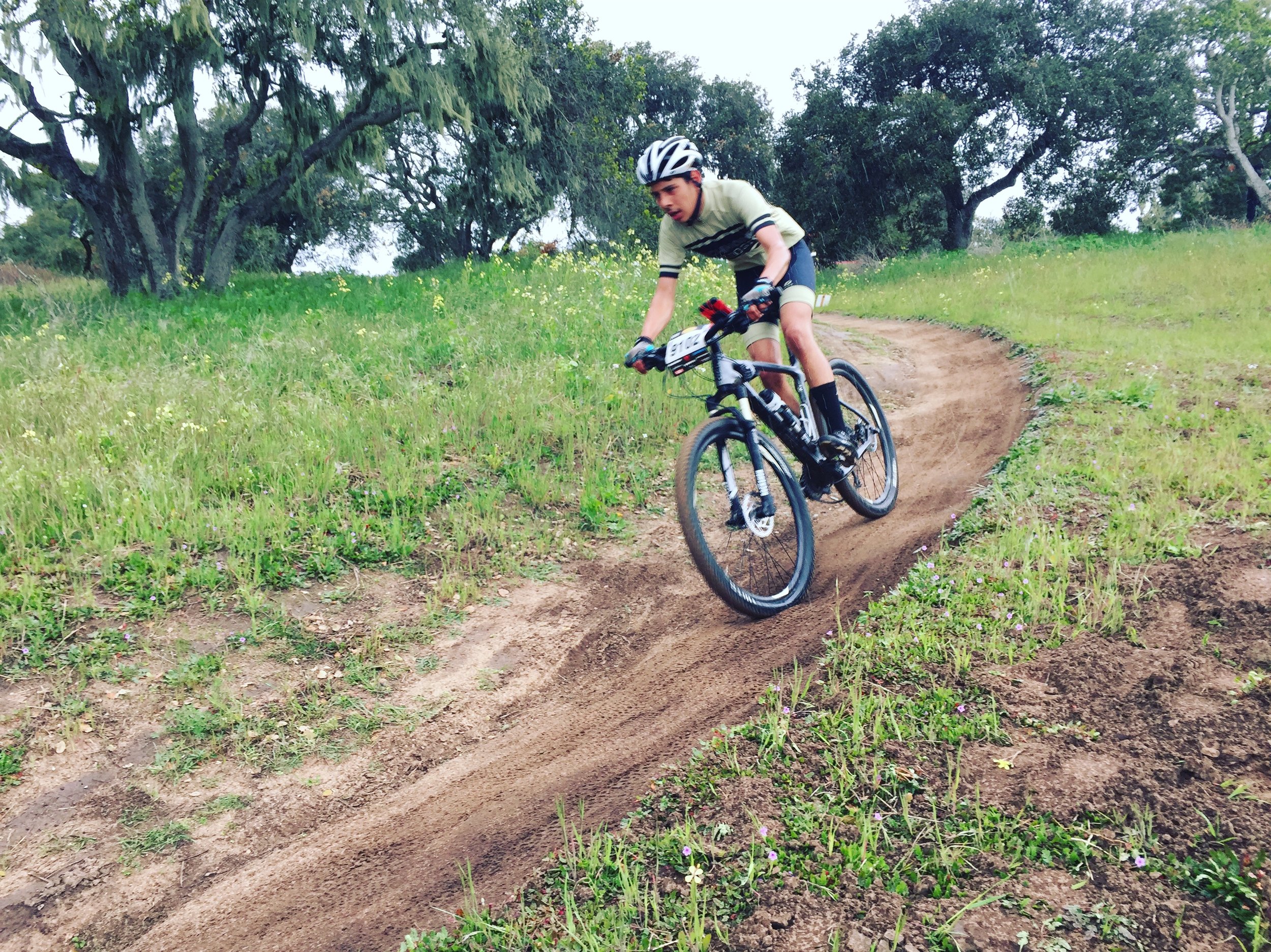 As the Freshman/Sophomore boys race was nearing its end, light rain began to fall. The rain was exciting, a fitting end to a hard race, until the rain quickly escalated from light to hard to insane in a matter of seconds. Sergio and Jacob were yet to come in from their race as the rain intensified. Do we look out for our riders finishing up or go check on our tent and equipment that was loosely strewn about in the sun filled morning some 10 minutes earlier? Do we welcome Sergio and Jacob with congratulations at the finish line or go try and contain the chaos that the incoming storm was surely unleashing on our pitzone? Yeah, let the rain come down and the wind howl, we've got racers coming in hot! Can't miss that.
Racers were spotted and embraced as they rolled through the finish line completing their final lap with rain soaked faces and exasperated smiles. This time, however, the finish celebrations were cut a bit short in an attempt to go address the weather situation.
Everyone rushed over to our tent where team members, parents and random folks were dancing around as if playing a big game of tag where the rain was "it." There was someone holding each leg of the tent, while someone frantically wrapped duct tape around bent tent legs as if bandaging a warrior in the battlefield mid fight. Spare bikes were duct taped to the tent as anchors as well, in our team effort to keep it from flying away. Everything was wet. The clothes, the backpacks, the signs, the tools, the people, everything. Rain pooled and poured off of our beaten tent canopy, adding insult to injury and turning the scramble to recover in the face of such unrelenting rain into pure comedy. Imagine trying to bail out of a sinking dingy with a slotted spoon. That was us.
After the most intense part of the storm passed, we started to collect ourselves and our belongings. Well, some of us did. Some of us had to race. While Sergio and Jacob and remaining supporters helped turn our pitzone right side up, Hunter headed out on a warm up.
With all the calamity we were a bit short on time for warming up. Plus it was wet. We scrounged up some type of rain shell for Hunter and headed out to try and get in the zone for racing. Focus was hard to come by with all the rain, but we did our best to work through pre-race nerves by mashing pedals and just marveling at what a crazy start to Hunter's mountain bike racing career this was.
Hunter lined up with the rest of the pack of JV and Varsity boys and took off up the start hill when the countdown got to 1. And the rain fell on. And we waited patiently for a sign of Hunter coming back through the start/finish after lap 1. When we spotted him after about 30 minutes, his spirits seemed high. His head was up, we exchanged words, he took a new full water bottle and I think he even smiled a bit. Or maybe it was a grimace. I'll choose to remember it as a smile.
Lap after lap Hunter came round with determination. He was going to finish. And the way he was drinking a bottle per lap and eating snacks I had no doubts he'd be crossing the finish line shortly. We waited cheering on other familiar faces on course until we spotted Hunter crawling up the last hill before the end.
"Here comes Hunter! Let's get to the finish line NOW!" All of the team gathered at the finish line to welcome him in. There was even a group of solid student riders from another team all lined up at the finish line with pots and pans and other noise makers giving some serious energy to riders coming in.
Hunter rolled through looking exhausted but alive. He rolled right through the finish line and right through the finish shoot (an area where riders collect before leaving the course completely) and off into the distance. Hunter couldn't stop. "Hunter, where are you going?" He rolled on.
Experience and his face told me like a boomerang he'd be heading back to our pit area to our home away from home, familiar faces and food, oh sweet calories. As soon as we arrived to our busted tent, Hunter was off his bike and jogging away. "I gotta go cheer for those guys still coming in. There aren't many of them but they deserve some support at the finish line. They're working their butts off out there." Hunter uttered in motion towards the finish line. Moments later Hunter was hanging over the finish line fencing with a gang of 15 others cheering his tired lungs off in support of his competitors. "That is an incredible team attitude." I said to whomever was around me at the time. "Incredible."
We started cleaning up and just as we finished it was time for podiums. Since Hunter was our first rider in the JV/Varsity race we got to stick around for the final celebration. The top girls and boys from each race get announced and walk up to some podium steps to stand tall in front of the crowd and celebrate their hard work and accomplishments. We snap photos and cheer and tell stories about the living legends we've been racing with. "That's Noah Hayes?" Sergio asks. "Yep, he's won every Varsity race this season." I respond, "And that's Max McFadden. He's a junior and came in right on Noah's wheel. He's fast as hell, and as nice of a person as he is a talented bike racer."
After podiums wrap up, we chat with racers, coaches and parents giving congratulations, hugs and high fives. Sergio and I found ourselves in a circle with Coach Morgan from Oakland Composite, Noah Hayes and his mom. "Give me three sentences to sum up your race Noah." Asks Coach Morgan. Noah's been asked this countless times post race now but he answers earnestly, honestly, and humbly as if he doesn't have it all figured out yet. He explains some micro details about his race (which are really big things at the front of a race) including nutrition and strategy with the other racers. He tells a riveting short story about what was unfolding lap after lap, attack after attack, mud drop in the face after mud drop in the mouth. We're right there with him.
Then Morgan asks him to share a bit of his journey to getting to today with Sergio. Again Noah is kind and sincere opening up to our promising Freshman racer Sergio. He asks Sergio questions, makes connections between the two and when Sergio tells him his favorite part of biking is going fast up hills, Noah laughs and says "If that's where you're at now, you're off to a great start. That was NOT my favorite part of mountain biking when I started. Work hard and keep at it. Put in the time-and it does take a lot of time. And listen to your coaches."
We jumped in the car and like riding down Main st. in the homecoming parade, we waved and said slow goodbyes to everyone as we rolled out of the venue and back north to Richmond. After three races I'd like to think we've got this whole thing figured out. And if by "figured out" you mean we've embraced the chaos and go-with-the-flow attitude needed to roll with all the punches that race day throws at you then I'd agree. We're dialed.
Race #4, here we come!